– Hi, I'm Amy with 731 Woodworks, and today we are gonna do a mini tour of the projects that we
have in our current home. Let's go in. (door creaks) Welcome to our house. Hey guys, welcome to our home. What we're gonna do today is
talk about some of the projects that we've built and we
currently use in our home. We just came through the front door, so what we're gonna talk
about first is our hall tree. And for all these projects, there will be a link in
the description below that takes you to some of those, the ones that we have videos for. So this is our hall tree that we use.
We don't really hang anything
here other than decorations, but we keep all of our keys there. It's a good place to have
seat and put shoes on, a little organization underneath and so we've really enjoyed it. Okay, so what we're gonna
do is, we are gonna head into the room that we
have dubbed our dog room, it's where we keep a spare bed for our son and our treadmill, so let's go. In this room, we have several projects, even though it's a small room. We have the daybed that we
made, a little nightstand, that's a floating
nightstand, a sign over it, a bench, and the dog
bed, all in this room. It's one of my favorite rooms in the house because it represents something that we're absolutely passionate
about and that's our dogs.
So the daybed we made after
our oldest son moved out, we just ordered a twin size mattress and built this bed to fit it. It's a wonderful little
setup, it's extremely sturdy, just not easy to move out
of a regular size door. Next, we have our arrow bench that I put at the foot of this bed. I love this bench. It's one that Mr. 731 surprised
me with after work one day, he wrote I love you on
it and sealed that in, I absolutely love that bench.
Great idea for somebody
special in your life. We have our floating nightstand because this room is so small, we need it to space save and so this little floating nightstand was a perfect way to do that. Above it, we have a
small sign that we made to have fun one day, it wasn't anything we
were attempting to make, I just took a little
metal O and put on it. We also have our little dog bed in here that you've seen a previous video on, the dogs don't really spend
a lot of time in that bed but they do like to come in
here and look out of the window.
So we have the dog bed next to it. We also have our dogs own
canvas pictures in this room. What we did, and I
think we've done a video or talked about this before, may not actually have a video on it, but we had those canvas
pictures printed at Walgreens and then we brought them home, took some one bars, made some frames, wrapped those canvas around them and just kinda stapled on the end. I ordered the love is a four
Legged word off of Antsy, along with their names in puzzle pieces and a little dog paw print. So, for me, this room
is all about our dogs. Next, we're gonna head to a
really small area in our home, the laundry room, so let's go. This is our laundry area. As you can see really, really tight space. That's why we decided
to put these shelves up, we've got a project video on those because in this little
area, we needed a good place to keep the dirty laundry
and some additional supplies. So having these above
our washer and dryer, it was a great way for us
to have some extra storage and some space saving.
We've also got a wash and
dry on our wall back here, that come from the same
company that we ordered the love is a four legged word from, on Antsy, Carpenter Farmhouse, they do excellent work,
really quick turnaround and I've ordered tons
of projects from them. But we have loved having
the laundry up here. We keep all of our laundry detergent and what we call, smell nuggets, the little good smelling things that you throw in the washer. It's just been a great way to kind of keep everything organized. This is the area that comes
directly in from the shop. So it's also a good
place to keep work-shoes, (chuckles) just kinda out of the way of the rest of the house. Connected to this room
is what we call our Den. It's just a little breakfast nook, it's where we put the
pantry that we built. It's also a really small room, which is why we needed the pantry. This house had no space
saving, organization, storage, anything when we bought it. So we've started, you
know, having to add that and it's been a wonderful thing.
Okay, so this is our Den. This is the area right next to the laundry room that I told you about. This is where we have built our pantry. As you can see, this room is really small, no storage was in here at all. So this pantry has given
us so much extra space and it's been wonderful. In this room we also have
our dining room table. This was one of the very first projects that we built for our home. We added some metal chairs to it only because our kids are older now, they tend to have friends
popping in every now and then, so we needed a little bit
of extra seating in here.
This lazy Susan was made out a piece of scrapped noodle board that we were gonna throw on the burden pal and I had him cut it out
for me, it works great. But this room, it's so tiny but I feel like we've really
maximized the space in it. The other thing that
we've done in this room, is we have shiplapped the ceiling. So doing that little
bit of shiplap up there, it really brightened this room up a lot and gave it a little bit of character. It's hard to put characters sometimes in a little odd room like this,
but we've really enjoyed it. So next, I think we're gonna go ahead and go look at our kitchen
and living room area, so let's go.
Welcome to the kitchen area. This is my favorite room in the house because I love to cook and I love to bake. We've done quite a bit in this room. The biggest change that we've
made in here are the cabinets. (chuckles) We did a video on that hardest project I've ever had to work on in my whole life. Don't ever want to
re-finish cabinets again, but I was so proud of
them when we were done. These cabinets were the
just pre-made cabinets that you can pick up at any
of those big box stores. They were the Steined color, Oak, I think, and so we had to sand all that down, we changed out the trim
and we painted them with Benjamin Moore paint and
have really, really loved him.
But something recent that we also added was we put shiplap around the top. I originally had an accent color up there, and it went all the way around and I just felt like it seemed outdated. So we put shiplap up and I
think it changed the whole look and I absolutely love it. We do have to maximize space here. So I keep all of my kitchen aids and all of my stuff to bake cookies, and all of the good stuff over here, kinda out of the way, but still usable. The bar stools. These were something that
we made a long time ago. They fit in different
colors, all different colors. They are distressed but they've also just
been scratched completely by our dogs and they've withstood it. They're really durable
bar stools, we love them, they're comfortable to sit in, they're perfect height
for what we use in here, we use these all day, every day. So these have been a great addition. The most recent project that
we did was our coffee bar.
The project video just came out on this and there was… You know, we put on there
that it had insane storage and I think we even had so many comments that they didn't understand
that but I wanna clarify that. This is inside storage for us. Because our house is small, if you can find any
little nooks and crannies that you can store stuff
in or use for decoration, then it for us that's insane storage because we are in a small home. It's right at 1800 square feet, there's four of us and three dogs, so, you know, we like
having this extra storage. Right now, it's mainly
used for decoration, but if I need to store
things there, I could. This kinda connects into
our living room area. In our living room area, this is actually our noodle
board from our store. I decided to take it out of our kitchen. I don't really know why
I think that my arm, it was just hard to kinda
pick it up and move it. I cook so much, but we
put it on top of this en-table that we built. This was the en-table that we just re-did.
It was originally in biscuit distressed and we changed it to the white clean look to match our coffee bar over here, and so I've just decided to trust it in the noodle board on it, I
really liked the way it looks. So that's there. We're gonna wrap around and this is our TV stand. The TV stand was re-done to make it match the coffee bar also. It was originally in the biscuit
distressed on the bottom, so we took it out, we
took the top off of it and re-painted it in
that clean white look. And the pictures that are
actually above our TV, they were biscuit also
with the distressed, so I re-painted them with the white also. Those pictures that are above the TV, we made those by printing
the actual pictures from Walgreens on paper
and using Mod Podge and we Mod Podged them
to our piece of wood, to the quarter inch plywood and then we built a frame around them and I have loved having those.
In our living room area,
it's not huge in here, but the one thing I love about this area, it's all about who we love. So we've got our kids. Most people put some type of
coffee sign above a coffee bar, I had it that way, but I changed to those
huge pictures of our kids. We've got our dogs over there, our kids and our dogs over here and us. So hope you like this room, we love it. Okay, the other thing in here, we put shiplap around this little area. This was one of those awkward areas when we bought this house. I didn't understand it a whole lot, it was kinda dark and dreary. So what I did, I decided
to put shiplap up there just to give it a little
bit more character, put a few things up there and it made it look so much better. We are gonna head to my
daughter's room next, in there, we've got a couple
of projects, so follow me.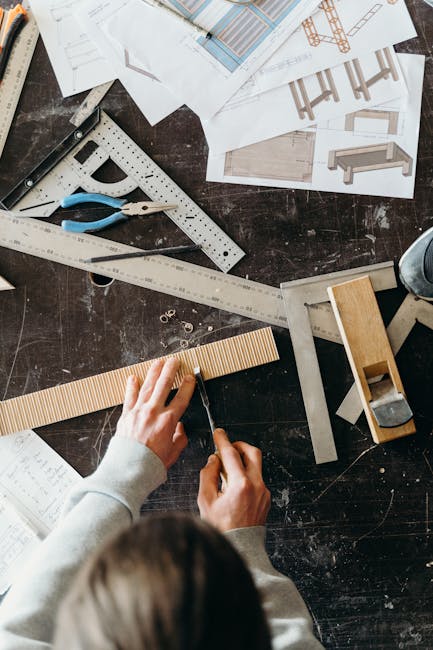 This is our daughter's room
(chuckles) and that's her dog that just yawned really loud. This is the dresser
that was built for her. It's actually one of my
most favorite projects we've ever done, I think it
came out looking very glam. The drawers, they open
and close real smoothly. I love that we added some crystal knobs that made it look just a
little bit more sassy, I think, diva-ish, princess-like,
even though she's older. This is also something that we made, but when we made this it
was actually a stain desk that we made for our son. When he decided to move
into a different bedroom in the house, we re-did it and painted it white to match the dresser and it's a little makeup
area now for our daughter. These are the projects in her room. She loves them, she gets
a lot of use out of them. They're space saving, this
one has a ton of storage and the little desk is slim long enough that it doesn't take up too much space.
This is our bedroom. This is actually where we
currently do Live Edge. Also, we have a little setup over here. Our bed is actually a
mattress on the floor because our dog broke her
leg jumping off the bed, so we got rid of the bed. One of the other benefits to having a mattress on
the floor instead of a bed, is when you have a little
short legged doggy like this, this is where she stays all the time.
This is our grand-dog Mia, her birthday is actually
tomorrow, so we're getting ready to have her a birthday
party this afternoon. But as you can say, she
enjoys the bed being low because she gets up there
on that fuzzy blanket. Another project that we did
in here was our nightstand. This nightstand was built
to be the height of the bed so that our mattress before
we got rid of our bed, our mattress actually came up to here, it was a really tall bed. So I know it looks a little
awkward now, but you know, you adjust for whatever you need to. But this night stand has done really well, it's a lot of extra storage
having that bottom part that's open he stores that…
This is Mr. 731 side, and he stores a lot of books under there. So that's worked out really well. We've also got our Live Edge
sign in here that we made. We used an actual piece
of live edge to make this, we hung it here so that
it would work for us whenever we do our Live Edge Show, every Tuesday night at
7:00 pm central time. So if you're not already watching that. make sure you watch that
we have a lot of fun on it.
But this is where it happens. Temporary set up for now we
hope to eventually, you know, get it maybe out of our bedroom and into room where it
would be easier to do. One of the other projects
we did in this room was that shiplap wall. When we originally put the shiplap up, we were getting ready to
paint the whole bedroom. We had painted the other
three walls light gray, we were going to paint that shiplap also but after we put it up, I
actually loved it unfinished, so we left it that way. We made the love sign
to hang above our bed. That's where the top of
our headboard actually was, at the bottom of that sign. So anyway, we got the
letters from Hobby Lobby, We built the frame,
stuck the letters on it, turned out to be a really great sign.
We absolutely love it, we love all the projects that are in here, that one of our next really big projects for in here is to make a bedroom suit. So I know some of y'all
are wanting to see that and we hope to get that going really soon. This is our bathroom area. This is one room that we are so ready to do a complete re-model on.
But for the time being,
this is the way it is. We made that dear picture,
I actually made that. I made that a couple of years ago, I was so proud of myself for making that. It is in the distressed,
but it fits in this room. We also made a little, like I say, we're in a small house
with absolutely no storage. So we made this little side
table that I keep my makeup on just to kinda give us a
little bit of extra space. And one of the best projects that we did in this room was this. Our place to hold our towels. These are our floating
shelves, I love these shelves. They're a box style, I
absolutely love them, they gave us so much more space. This room had nowhere to store towels. You couldn't store towels under the sinks because the cabinet that's under the sink it literally has all of
the piping and all of that and no other space,
just the small drawers.
So adding these shelves in here was such a huge thing for me. I do keep decorations on the top. You all know I like my decorations, I like to (indistinct) my stuff. But this has been wonderful, we keep all of our towels
and our rags there, I know they don't match
our room, but that's okay, we're getting ready to re-do those.
There's only one more
project that I wanna show you and it is actually in our closet. Don't judge our closet, we are planning on doing a
dream closet over really soon, oh, but there's a lot of stuff in here. So the project I wanna show
you is the one that is here. This is my purse storage system
that I was surprised with one day when I came home from work, I was blown away by this.
Oh, I love this little thing. I want to do this all
the way around the top at least on my side to
store more purses on but this project is such
a space saver for me, because that was dead
space above that door. There was nothing there, no storage, you couldn't really hang anything there because it would have been in the way. So him putting the shelf
above this area was so genius and I appreciated it so much. This is a great concept if
you need to add extra storage in other rooms in your house. You know, if you've got
dead space in there, what a great thing to do,
just add something above it, create some type of storage,
make it look functional and you can make it look really pretty.
So that has been a mini
tour of the projects that we have in our home that we built, that we currently use. There have been other
projects that we've built, used for a little bit and
decided we didn't want, or, you know, we gave to a family member, or used in my classroom, things like that. But these are the ones that we have here that we enjoy so much.
I appreciate you guys
coming into our home with us and looking at our stuff, we love it. If it's not your cup
of tea that's fine too, just leave the judgin' to Jesus, okay? So glad you were here with us today and I cannot wait until I see you again. So if you enjoy this video and
you wanna see more like them, click that next box right there.
If you do, share this
on your social media, give me the thumbs up, I'll give you that
bigger virtual fist bump, I appreciate that so much. If you have not already
subscribed, go ahead and subscribe, hit that bell icon so
that you get notified, like us on Facebook, and I cannot wait until I see you again..